No longer simply defending my conservative views, now I'm broadcasting them
The first time I realized the need to defend my conservative views was when my first boss cut ties with me when I was 19 years old when he realized who my favorite author was.
I was a receptionist for a small vintage hotel in Palm Springs, CA. When I checked-in in the morning, my boss, Robert, would usually walk in and ask how I was doing. Robert was in his 50s and had a relaxed lifestyle.
During the five months I worked at the hotel I learned Robert and I were fairly similar. We had a more intellectual approach to conversation, we both admired eclectic musicians, and we both had an odd sense of humor. I considered Robert to be a good friend and someone I could turn to for advice.
Eventually I left the hotel job to begin working at a TV news station. Robert was sad to see me go but was glad I was moving onto bigger things. We became friends on Facebook.
One day on Facebook I posted a comment expressing admiration for Ayn Rand, an author I began reading when I was 16 years old. By my own choice I read two of her novels, Atlas Shrugged and The Fountainhead, as well as her book Anthem. I considered the character Dagny Taggart in Atlas Shrugged to be one of my primary role models.
Robert came across the post and commented that he was disappointed with me. He questioned how I could like Ayn Rand, and then unfriended me. I was appalled that someone I had worked close with and trusted would end ties with me over my admiration for an author!
Since that day over a decade ago I've observed Ayn Rand to be one of the most frequently attacked authors in media. Alternet, a news source that has thousands of young followers on Facebook, published multiple articles targeting Rand, one of which is titled "How Ayn Rand Helped Turn the U.S. into a Selfish, Greedy Nation". Major media outlets such as PBS, BBC, The Guardian, and NewsWeek, have presented harsh narratives of politicians that express admiration for Ayn Rand.
Needless to say, I've gotten the message that my views put me on the chopping block for many people of a certain ideology. After years of hostile conversations surrounding Rand, I've come to recognize this ideology and now I put my foot down whenever I encounter it. I've lost friends over it (now I realize they were never friends) and have been called a heartless person by people who at one time praised me. People with this ideology will come off as kind but then will double cross you when they learn your conservative views.
I saw this ideology rear its ugly head during the 2016 general election. It shut down conservative speakers on college campuses, ignited domestic terrorism across the country, and attempted to thwart the results of the presidential election. This caused me to decide not only do I need to defend my conservative views, I need to broadcast my views. I am proud to be here to represent secular conservatism.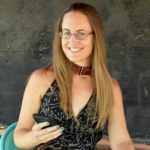 Lauren Ell is President of Republican Atheists. She is a business owner, consultant, marketer and communications strategist. Contact Lauren Ell here. Follow Republican Atheists on Facebook and Twitter.